With February containing the big kahuna of celebrated heart-focused holidays,  I decided I would join along by focusing many of this month's posts on ways to make your kitchen more loveable.  When speaking to people about their homes many will state that the kitchen is the heart of their home.  It is the place they spend hours of time cooking and baking food for the people in their lives they love the most.   It is the place where heart to heart chats spontaneously occur while sitting at their table after a big meal.  It is often where a child will learn their first game of Candy Land, or their shapes as they conform colorful, salty smelling play dough into first a ball and then pressed out into a circle.  It is where they color, work on a challenging math problem, or just sit so they can be near the action.
With how close the kitchen is tied to the heartstrings of the home it is not surprising that it is the most frequently and costly renovated rooms.  What is surprising, however, is that according to the Huffington Post, Americans spend an average of $28,030 on their kitchen remodels.  Wowza, that's a lot of dough (and I'm not talking about the play dough kind this time).
I've put together 16 budget friendly ways to update and make your builder kitchen look more like a custom, high-end kitchen without spending thousands of dollars.  Many of these ideas are under $50 (some even free) so if your budget is really tight don't despair, even doing one of these suggestions will make for a more loveable kitchen.:-)  So, to begin this series I will start with one inexpensive way to fall more in love with your kitchen.
First, and perhaps the most talked about in the DIY world, is to paint your cabinets.  I know it sounds overwhelming and I won't lie, it is.  I know, because I've done it twice (once in our previous condo and once in our current home).  BUT, it  is soooo worth it!  There are tons of methods and tutorials out there.  Just google "how to paint your kitchen cabinets" and you will find them.  Just pick a way that feels doable to you and go for it.
When I painted our cherry cabinets white in our current home I used Rustoleum's Kitchen Cabinet Transformation Kit and had a good experience with it for the most part.  I will do a product review on it later this week.  I really didn't want to have to paint the cabinets in this home.  I tried REALLY hard to make the cherry cabinets work but to no avail.  Deep down in my heart white cabinets were the only one for me.
So first, I called around to see if perhaps I could hire someone to do it.  Prices were too high!  So in desperation I asked someone if they could just do the upper cabinets and I would do the lower.  That didn't work either, they would have charged $800 for just the uppers and $1600 if I wanted all of them done.  Neither of those numbers were in the budget.  I researched and I knew I could do it myself for under $100 and that's including all of the supplies that I needed.  Painting your kitchen cabinets yourself should cost at the most $150 and makes such a difference to the feel of the room.  Here are some inspiration pictures and ideas of how to use paint to transform your cabinets and thus your kitchen.
1.Paint both upper and lower cabinets the same color
2. Go two-toned.  I LOVE the look of these kitchens with the white upper and dark lowers.
It totally give them a more custom look!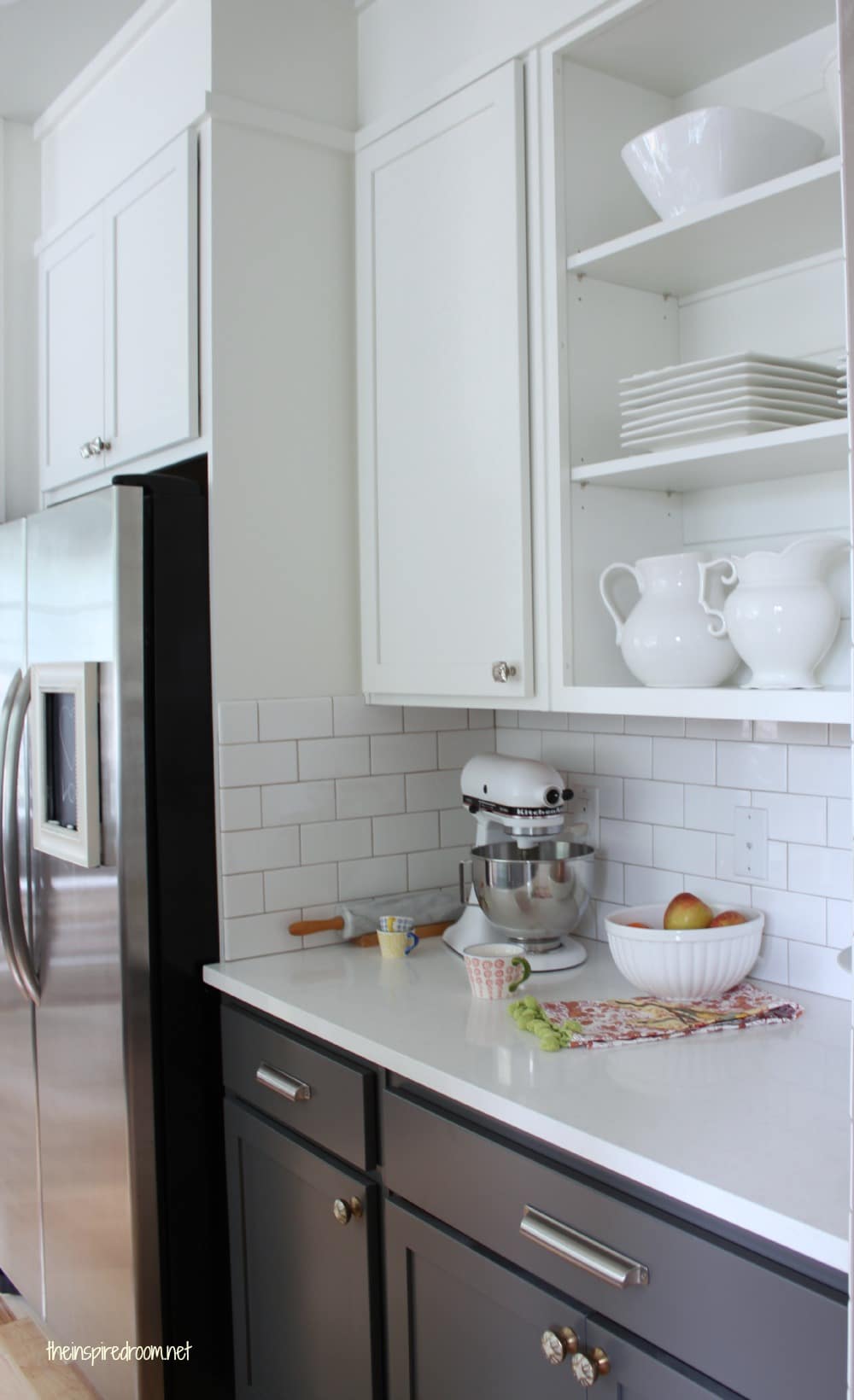 3.
If you have a kitchen island (big or small) paint it a different color then your main cabinets

.
So, what do you think?  Think you can do it?  I do!  Painting cabinets takes time and patience.  It can often take a few weeks especially if you will be painting the insides of the doors.  Just go into it having realistic time expectations and knowing it will be worth it in the end.  You can do it!
If you don't think you are up for it no worries I will be sharing lots of other ways to get a high-end kitchen look and feel.  Stay tune…;-)