In the past several Design 101's we've been discussing the importance of balance in creating spaces that are pleasant and cohesive.
One aspect of design that can often be overlooked by homeowners is the balance of new and old.
Designers love shopping antiques stores!  Why?  Because they know for a home to feel personal and unique (
and homey) there must be a mix of new store bought items and 'older' items that appear to tell a story.
Imagine if you filled your home with let's just say a bunch of home décor from Target.  Target has some awesome décor items these days but it would just look like a Target store display–something would be lacking.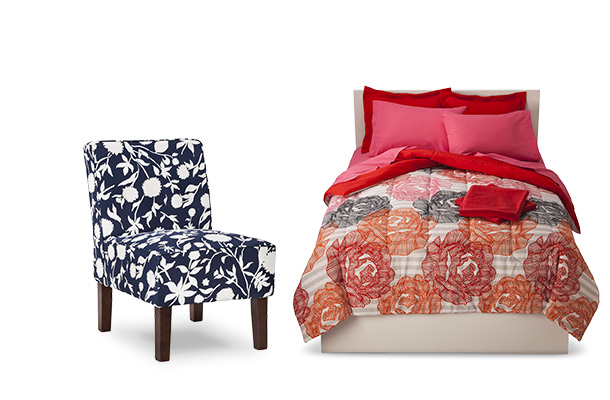 via Target
Visa versa what if you just decorated your home with solely a bunch of family heirlooms and antiques?  Your home might look a bit too eclectic and outdated.

via French Market Antique Store
So what is a good balance of new and old?  There is no set ratio but if I had to make  one up I would say  a good ratio is 4:1 or 5:1.  For every 4 or 5 store bought items having a 1 antique or more personal item is a good balance.
When shopping at stores or antique markets it is important to only purchase items that you love!  Similarly when you are given family heirlooms decorate with them only if you love it or the particular item has special meaning to you.
Displaying old books is a great an easy way to make your home feel more cozy and homey.
I have had friends who have been given items from grandparents or other relatives and who feel obligated to display them in their home.  They love their relative but the item is not their taste.
I don't think we should ever feel that displaying a certain item in our home equates love.  There are lots of other ways we can celebrate our loved ones and keep their memories alive.  So please don't ever feel obligated to decorate with heirlooms you've been given.
On the other hand if you do love the heirloom item by all means decorate with it!  A few years ago my paternal Grandmother passed away.  I have great memories of visiting her home throughout my childhood and into my adult years.  Her home was magical–it was filled with love, cozy snuggles on her lap, delicious meals and sweets, and family time with Aunts and Uncles and cousins.
After she passed away I had the opportunity to choose some items from her home to bring home with me.  This is what I chose:
1. A silly framed photo of a man and woman dressed in colonial attire.
This framed photo was in my Grandma and Grandpa's basement bathroom.  They had a finished basement that served as guest quarters when we (and other relatives) came into town.
I took it home with me because I like colonial décor and I like that it is kind of a random, silly photo.  I definitely have a silly side to my personality which I believe comes from both of my grandmother's (we have a picture of this grandmother on a skate board and she was known to run aside (race) our car down the street when we left from visiting her home well into her 80's).
The framed picture is now in our dining room.
2.  Another item I took was this great, large, textured basket.
It held loads of magazines in her basement.  In my home it is a keeper of toys in the family room.  When I don't want to see the toys I just put a throw on top as shown above.
3.  I also took this wood vintage Pespi bottle holder.
I liked the vintage look and Pepsi resonates in our home because my husband is a BIG Mountain Dew drinker which is Pepsi product.  It sits on the sofa table behind our couch in our family room.
4.  Lastly, I took my Grandma's pitcher and basin.
It used to sit on her buffet table in the dining room where we would eat the delicious family meals she cooked for us. It reminds me of a basin of water and it is what I imagine Jesus using when he washed his disciples feet after the Last Supper. It reminds me of serving others and showing love and it's new home is in my master bathroom between the sinks.
Even if a home had the most stylish store bought pieces it would be lacking if it didn't contain some personal or unique items from the past.  Decorating with a few antiques and heirlooms (that you love) infuses personality, interest, and warmth into our homes and help them feel like home.
How have you incorporated antiques and heirlooms into your home?  Do you think a 5:1 ratio sounds about right?
For more Design 101 posts you can read HERE.
Have a great Labor Day Weekend!!