With it now being September and the Fall season on the brink my mind has naturally shifted to  mantles and fireplaces.  I want to share an easy DIY that has made a huge impact on the aesthetics of our mantle and  family room.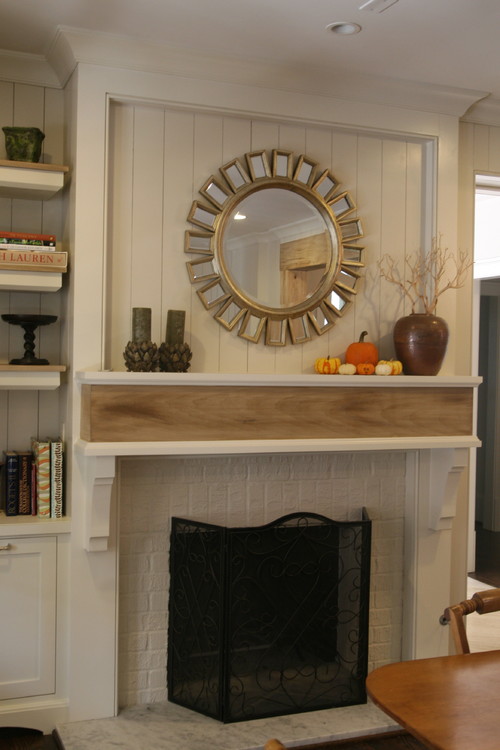 It all started back a few years ago before we bought our house.  At the time we were planning on building a house and we were in the process of making all kinds of selections for the new home.
One of the options for the fireplace mantle was having woodwork trimmed out above the mantle.  The photo below is what the builder's sales rep showed me to demonstrate what it would look like.
Um, yes please we'll take that option is what I had told her.  I loved it!  All the white molding looked beautiful and really made the fireplace/mantle the focal point of the room.
So when we didn't end up building (long story, you can read all about it here) I was left with an unfulfilled hope of having a white fireplace with white woodwork above it! 🙁
Nevertheless, I was determined to get the look of these mantles!
And my determination paid off (so can yours)!  Here is our fireplace and mantle when we bought the house.
The Before
and here it is now, the After!
Believe it or not this is a pretty easy and inexpensive DIY.  Here are the steps I took to get this dramatic change.
Note:  Be sure to line it up with the width of the fireplace not the mantle.  Use 1 1/2 inch finishing nails.  If you don't use a nail gun be sure to drill pilot holes through the wood before nailing.


Note:  No need to miter just sit the 1×4's directly on the 1×2.  You can go back and caulk later.
Note:  An optional 6th step is to add crown molding to the top of the woodwork (to the 1×4 on the very top).  I didn't at first and still really loved how it looked even without the crown molding.  I ended up having it crowned when the rest of the room was getting crown molding.
I really don't think crown molding is necessary for this DIY but if you are interested here is youtube video on how to make these cuts.
That's it!  The project went quickly and probably came to about $60 including the price of paint, wood, nails, and paint supplies.  Lots of bang for the buck!
And because I love a dramatic before & after let's do it one more time.:-)
I'd love to hear if you end up doing this project and of course let me know if you have any questions!!