Rugs have been on my mind as of late. Our hardwood floor installer made sure he told us lots of times that getting rugs for our new wood floors should be high on our priority list. He was a big advocate for using them to protect our new floors against water spills and other wood damage inducers.
He was right, there are great practical reasons for having rugs in your home. I am right, when I say there are a lot of great impractical reasons to get rugs too!;-) In design rugs have the power to add texture, a pop of color, soften, make a room cohesive, or make a statement.
For all rugs can do you would think getting them would be high on everyone's priority list, however, one of the biggest downfalls of rugs that I have run into is that they can cost a pretty penny (Or more like 1,000+ pretty pennies).
Over the past few years as I've searched high and low for stylish rugs on a budget I have come across a few ways to get the look for less.  Predictably I usually turn to my Pottery Barn or Ballard Designs catalogs for inspiration and then look elsewhere for less expensive copycats.
Here are some examples of some copycats I've found:
Ballard Designs Merletto Rug- $600 (5.5×7.5)
Overstock's Version- Nourison Vista Ikat Ivory 5×7- $42.79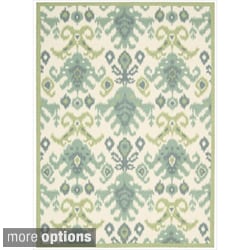 Pottery Barn Henley Rug- On Sale for $411 plus $25 Surcharge (8×10)
Overstock 's Version- On Sale $148.74 (8×10)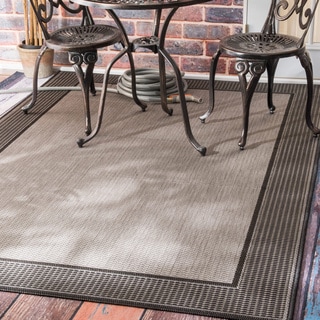 Ballard Designs Saybrook Indoor/Outdoor Rug-$ 319 (8×11)
Overstock 's Version- $151.29 (8×11)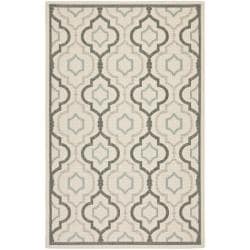 Ballard Designs Blair Hand Tufted Rug–  $999 (8.9 x 12)
Rugs USA Version– On Sale for $333.30 (9 x 12.5)
Pottery Barn's Shelby Rug- $524+ $25 surcharge (8×10)
Rugs USA's Version- Homespun Blue – $198.60 (6×9)
Pottery Barn Malika Persian-Style Rug– On Sale $721.00+surcharge
Rugs USA's Version- Radiante Slate Rug – On Sale $326.80 (8.5×11.5)
Overstock.com and Rugs USA are excellent sources of stylish, well priced rugs.
Overstock.com has been my most consistent source of inexpensive, attractive rugs. Whenever I go to their site to look for rugs I can usually find a great selection.
A couple of years ago I purchased my dining room rug there for $144.  A great deal considering it is a large 8×11 rug.
I also bought this brown houndstooth indoor/outdoor rug there for $34.  It has held up well in the great outdoors.

The other financial benefit over some of the other stores is that Overstock.com's shipping is free.  And you can return it for free as well.
I once bought a rug there that I didn't end up needing so I called them and they sent a return label to my email that I printed out and put on the rug's original package (keep your rug packaging until your sure you are going to keep the rug) and then took the rug to the UPS store.  That was it!
Rugs USA also has a great selection, however, their deals aren't always that good.  Their great deals only seem to happen around Holidays.
For example this week they have had a 70% off plus free shipping sale because of Labor Day.  But don't worry if you miss this sale because come Halloween or Thanksgiving I wouldn't be surprised if there is another 70% off sale!
Lastly, I want to mention that Ballard Design's Indoor/Outdoor rugs can sometimes can be inexpensive.  Our entry way rug is from Ballards and I got it on sale/clearance for only $29 plus shipping!  It has held up really well considering the abuse it's endured.
Since we now have new floors and a new runner going down the stairs (I can't wait to show you!) I am thinking about buying a new entry way rug.  I'm thinking something with a little more color.
Perhaps Ballard's Tortola Indoor/Outdoor Rug (in Blue) for $50.
OR maybe Overstock's Safavieh Indoor/ Outdoor Moroccan Courtyard for $35.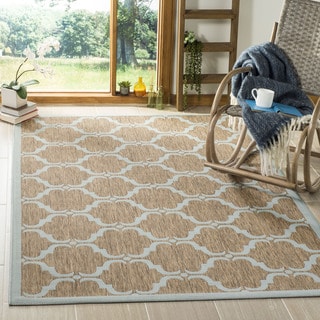 What has your experience been with any of the above mentioned companies?  Where else have you found good deals on rugs?  I love hearing from you! 🙂