Happy 4th of July!!! I am popping in on this great day to share a few deals I've been spying around stores and online.
First, Hobby Lobby is having a huge sale on select home accents. I went by there yesterday and there was one full aisle of 80% off items, a half an aisle of 90% off items and 2 full aisles of 66% off items. There were several items at my local store that would be great to use for filling empty spots on mantles, consoles tables, bookcases, and shelves. Many were between $2-$8.
Remember these pretty blue and white porcelain pots from the Casual Elegance Post pictured below??  Well, Hobby Lobby had some smaller, similar versions of these pots for only $4 to $6 a piece!
RugsUSA is having a 70%-80% off promotion at checkout (and free shipping) until July 7th.  This is just one of many stylish rugs offered.
via Rugs USA
Next, JC Penney is clearancing out a bunch of their drapes. And right now until July 6th you can get an extra 25% off of the clearance price when you checkout with the CODE: HOTDOG.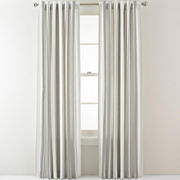 via JCP
There are some pretty ones like the serene, stripe one above.  With the 25% off code these are only $22 a panel for the standard 50 x 84 size.  They remind me a lot of Pottery Barn's pricier Riviera Stripe Drape.
These are the deals I'm aware of, however, I know there are a lot more going on throughout the weekend.  So if you come across any feel free to share it in the comment section of this post!  Deal lovers UNITE!
Also, I've been trying to figure out the best way to share deals I come across.  Sometimes when I just see one deal I don't feel I should post it since it's just one deal–even if it's a really good deal!  I've been thinking that in these cases it would be best for me to post it on Instagram.
So if you are at all interested in getting more frequent updates on deals I hear about or see you can go to my side bar below my picture and click the button, View on Instagram.  I believe that this will allow you to start following my Instagram feed.  Just don't want you to miss out on any great deals!! 🙂
Have a very Happy 4th!