This week I've been working hard on my sons' shared bedroom makeover.  Specifically I have been tackling their beds, one of which needed repair and both which needed some serious updating.  When deciding on how to update their beds I was inspired by the idea of a gray tufted upholstered headboard.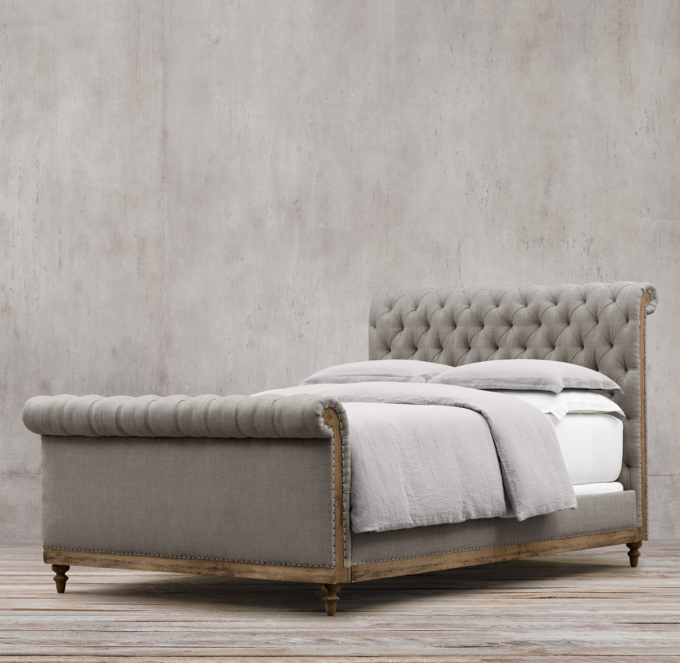 There is something so masculine and handsome about it.  I felt like something similar to this would really help the boys' room feel more distinguished and sophisticated.  Of course, buying this one was out of the question!  The above bed runs between $2,000 and $2,600.
After reading Jen's upholstered headboard tutorial  from Tatertots and Jello I decided to give the DIY a try and put my own twist on it!  I'm so glad I did!
Below is how my boys' gray tufted (actually faux tufted) headboard turned out.
Would you believe it if I told you that two twin size headboards only cost me around $40 to make?  That's only $20 per headboard!!  I love both the price and the look of this DIY!
Below is a full step by step process of how to make these headboards as well as a faux tufting trick I learned along the way!!!  You can do this!
Supplies– (1) 4×8 ft piece of plywood-  I got mine at Lowes for $7.35.   It was actually in a pile just outside the lumber door.  Most of the plywood this size is more expensive.  If you can't find it ask a worker to show you where the plywood is that is under $10.
Full size Foam Mattress pad-  I got mine at Jo Ann's for $22 (it was %50 off).
1-2 yards of fabric depending on the height you want your headboard to be.  I got my fabric at www.fabric.com $5 a yard.
A Staple Gun
A jigsaw
Several buttons-  I already had my buttons from a large assortment pack I bought years ago.
You can either prop the headboard up behind the bed if it's the right height or you can use D-ring hooks and screws (into studs or anchors) to hang the headboard on the wall at the desired height.
I hope you found this tutorial helpful.  I know I could have probably figured out how to tuft the headboard with a needle and thread and drilling holes in the back of the headboard but this method got me the same result with less hassle!
I hope you have a great weekend!  Any big plans???