Lights, Camera, Action! Of all the places in the home the kitchen is the one with the most continual action. For this reason priority should be given to how the kitchen is lighted. If you don't have the budget to do a complete kitchen renovation that's okay! Putting your money towards new lighting will go a long way in making your kitchen feel more updated and custom.
Adding can lights (aka recessed lighting) to your kitchen ceiling is relatively inexpensive and is a great way to increase the brightness in a room. It also supports the flow and openness of a room because it sits flush against the ceiling, hence, there are no hanging physical distractions to the eye. Recessed lights run as low as $25 a light and can be DIY-ed. Here is a tutorial on how to install can lights.
Having one or two unique hanging lights is another avenue to increasing the brightness of a room while also presenting a custom flair. Most of the comments on my kitchen come from compliments on the light fixture over my kitchen table. Finding a light that you love and that is different from the basic builder light fixtures will get you one step closer to having the look of a high-end kitchen.
Lighting for your kitchen doesn't have to come at a high-end price.  When I moved to our home a couple of years ago I knew we would need a new hanging light for over our kitchen table.   I had picked out this light from Overstock for $132 as my inspiration light for my kitchen.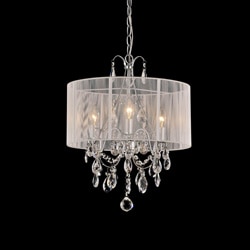 $132 was not a bad price, but I wasn't quite ready at the time to spend that much.  One day I showed a friend who loves decorating too a picture of my inspiration light. She liked it too. A week later she gave me a call saying that she had spotted a light similar to it at Costco for only $70! We both ended up purchasing one and this is the chandelier that hangs over my kitchen table.
Moral of the story: Tell your friends (thanks, Cindy!) about the lighting you want in your kitchen and then they will find you a less expensive version:-)  Lol, not really! I know I got lucky but there are great deals out there on lighting, if you are patient and look for them.  Overstock.com, Lowes, and Wayfair.com are good places to start when looking for decently priced lighting.
Or if you are up for a DIY you can follow this awesome tutorial to make your own drum shade pendants like Melissa from 320 Sycamore did!
And don't underestimate the power of paint to transform ugly outdated fixtures into beauties.  I did this in my daughter's room.   I bought a $7  boring brass chandelier on Craigslist and here it is now.
Jennifer Rizzo, also utilized the power of paint in this thrift store pendant light transformation.

http://www.jenniferrizzo.com/2011/09/my-kitchens-new-old-light-fixture-make.html
Other than can lights and unique hanging light fixtures, under cabinet lighting is another method of infusing light and style into your kitchen.